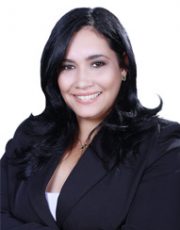 ANA FRAGO
507.265.7777
MMG Tower | 23rd Floor   
Ave. Paseo del Mar | Costa del Este | Panama, Rep. Panama   
P.O. Box 0832-00232 – WTC
Ana Frago is an Associate at Morgan & Morgan and attorney of the firm´s office located in the city of David, Chiriqui, since 2005.
Mrs. Frago concentrates her practice in a wide variety of areas including real estate, mergers and acquisitions, labor and immigration and corporate law.
Prior joining Morgan & Morgan, Mrs. Frago served at the Second Notary of the Circuit of the province of Chiriqui.
Mrs. Frago is also involved in pro bono activities at the firm regularly assisting to Legal Open Houses organized by the firm in very low-income communities to provide free legal orientation.
Mrs. Frago obtained an LL.B. from the School of Law of Universidad Latina de Panamá in David, Chiriqui and studied English at St. Giles in London, England. To complete her professional training, Mrs. Frago obtained certifications calculating labor compensation rights; introduction and management of information systems; and Procedural Law.
Mrs. Frago is admitted to practice law in the Republic of Panama.