martes, 29 noviembre 2016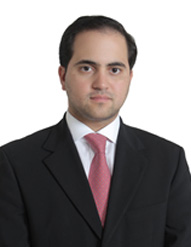 Morgan & Morgan is pleased to announce the recent hiring of Diego Alejandro Abadia, who joins the more than eighty (80) lawyers who make up the Morgan & Morgan Group's international network.
After gaining experience as a lawyer in the Panama Canal Authority (ACP), where he had the opportunity to handle legal matters within the areas of contracts and maritime law, Mr. Abadia joins Morgan & Morgan to expand the Maritime Litigation practice within the firm.
Mr. Abadia graduated with honors from the Law and Political Science faculty at Universidad Santa Maria La Antigua in Panama. He went on to obtain a Masters in Law (LLM) at Duke University, Durham, NC, United States and after that a Masters in Maritime Law at the School of Law at Tulane University in New Orleans, LA, United States.
"With the incorporation of Mr. Abadia, Morgan & Morgan strengthens its team of lawyers and reaffirms its position as the leading litigation firm in the shipping and admiralty industry, covering all aspects of maritime dispute resolutions," said Juan David Morgan Jr., partner in charge of the Maritime Litigation practice at Morgan & Morgan.