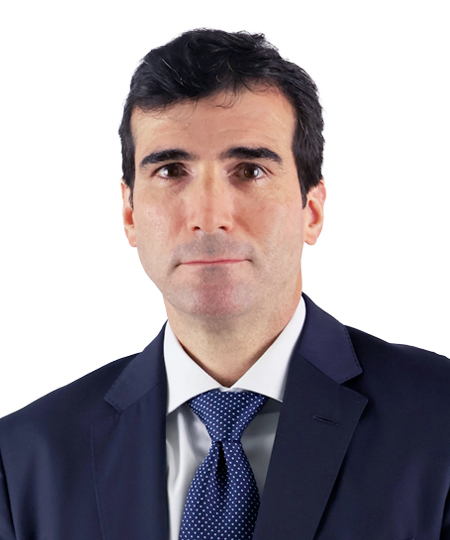 Francisco Linares
507.265.7777
MMG Tower | 23rd Floor   
Ave. Paseo del Mar | Costa del Este | Panama, Rep. Panama   
P.O. Box 0832-00232 – WTC

Chambers & Partners
"Partner Francisco Linares enjoys over 20 years' experience in the field of shipping litigation. He regularly advises a diverse selection of clients including banks, insurers and shipowners on relevant disputes arising in the shipping industry. He receives plaudits from market observers for his high level of expertise in this area. "
El Dr. Francisco Linares es actualmente socio en Morgan & Morgan y abogado en el Departamento de Litigio Marítimo de dicha firma.
El Dr. Linares cuenta con cerca de 20 años de experiencia en toda clase de disputas y reclamos marítimos en los Tribunales Marítimos de Panamá, incluyendo colisiones, reclamos de carga, derrames de crudo, lesiones personales, secuestros marítimos, reclamos de seguros marítimos, ejecuciones de hipotecas navales, entre otros.
Su cartera de clientes incluye armadores, P&I Clubs, fletadores, suplidores de combustibles marinos, aseguradoras de casco y de carga, bancos, operadores de puertos, entre otros negocios afines.
El Dr. Linares ha sido ha sido profesor de Derecho Marítimo en la Facultad de Derecho de la Universidad Santa María La Antigua, y miembro de la Junta de Asesores de esa misma Facultad.
En la actualidad, es miembro de la Asociación Panameña de Derecho Marítimo, del Colegio Nacional de Abogados y del Institutito Ibero –Americano de Derecho Marítimo.
La publicación Chambers & Partners perfila al Dr. Linares como un abogado destacado en la práctica de Litigio Marítimo.
El Dr. Linares es autor de la publicación "Nuevas Normas de Procedimiento podrían hacer de Panamá el lugar perfecto para ejecuciones de hipotecas navales", en la revista Marine Money International, Volumen 25, Número 1, enero de 2009.
El Dr. Linares obtuvo una Licenciatura en Filosofía y Economía de la Universidad de Notre Dame en 1992. Posteriormente, obtuvo un Doctorado en Jurisprudencia (Cum Laude) en la Universidad de Tulane, con especialización en Derecho Marítimo, en 1996. En 2010, el Dr. Linares obtuvo un diplomado en Convenios Marítimos Internacionales OMI, de la Universidad Marítima Internacional de Panamá.
El Dr. Linares está admitido para practicar el Derecho en la República de Panamá.