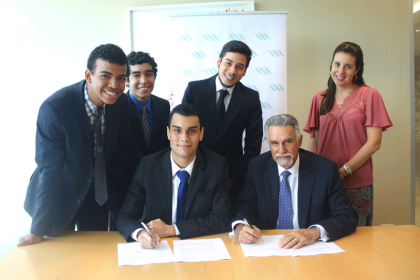 Morgan & Morgan and Ayudinga Media have signed a cooperation agreement by which the law firm undertakes to assist pro bono, with the legal and financial structure of this education project that seeks to innovate with creative teaching methods.
This alliance will allow for an exponential growth of the project that since July 2015 has been working hand in hand with Morgan & Morgan on issues of trademark and intellectual property registration, corporate organization, and the creation of a business model necessary to strengthen the platform and give it an international focus.
Dr. Juan David Morgan G., CEO of Morgan & Morgan, and Johel Batista, CEO of Ayudinga Media, signed the agreement, at an act attended by members of the Board of Directors of Ayudinga Media, and Camila de Vengoechea, Manager of Organizational and Community Development for Morgan & Morgan, as well.
Morgan & Morgan are proud to support the integral development of future generations and confirms its commitment to education and pro bono participation in our country.