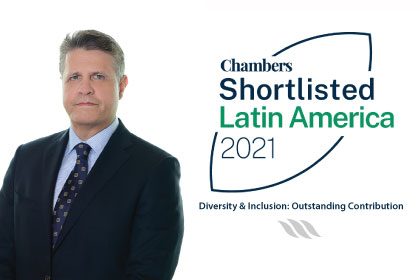 Panama, September 20, 2021. We are proud to announce that our partner Carlos Ernesto Gonzalez Ramirez has been shortlisted in the Chambers Latin American Awards 2021 in the category "Diversity and Inclusion: Outstanding Contribution."
Mr. Gonzalez Ramirez is one of the ten lawyers granted this distinction, sharing the honor with highly recognized legal professionals in Latin America. The complete list can be found here.
The award celebrates attorneys and law firms who are furthering the advancement of diversity and inclusion and pro bono across Latin America.
The awards will be held on Friday, December 3, 2021.