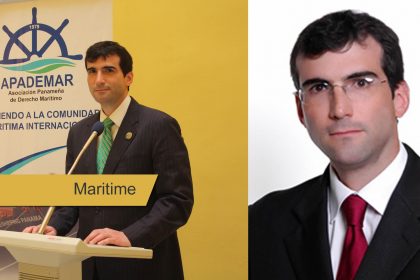 Dr. Francisco Linares, partner of Morgan & Morgan, took office as Chairman of the Board of Directors of the Panamanian Maritime Law Association for the 2017-2018 term.
The act took place last May 5 at the Museum of the Interoceanic Canal in Panama City, with the presence of personalities and professionals of the legal and maritime industries.
The new Board is comprised also by Maria Lourdes Galan (Vice President), Ramon Franco (Secretary), Pilar Castillo (Assistant Secretary), Giovanna Avendaño (Treasurer), Alexis Herrera Assistant Treasurer), and Belisario Porras (Director).
In his first speech as Chairman, Dr. Linares confirmed his commitment to representing the interest of all participants in the industry before government authorities, and to introducing initiatives that will contribute to strengthen Panama's position as a main center of world maritime trade.
Dr. Linares is a lawyer with almost 20 years of experience in all aspects of maritime dispute resolution and claims at the Maritime Courts of Panama. Presently, he is a member of the Panamanian Maritime Law Association, the National Bar Association, and the Iberoamerican Maritime Law Institute.