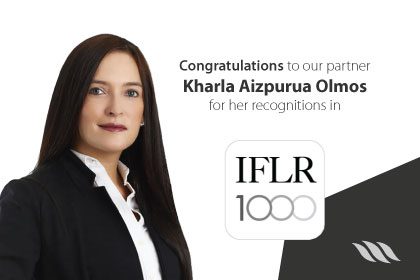 Panama, April 7, 2021. We are proud to announce that partner Kharla Aizpurua Olmos was again recognized on IFLR1000 Women Leaders 2022, an elite ranking of the most prominent women lawyers worldwide.
The publication features around 1,000 lawyers globally working in areas of law such as banking and finance, corporate, contractual, regulatory, and projects. The group possesses outstanding reputations, expertise in working on complex deals, and leadership roles with their firms or practices.
More information is available at: https://www.iflr1000.com/Stub/WomenLeadersPanama.