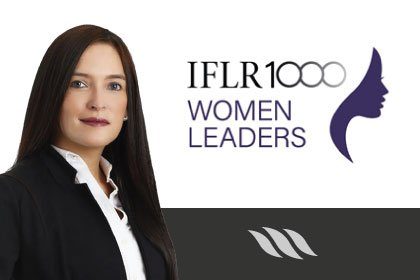 We are proud to announce that our partner Kharla Aizpurúa Olmos was selected as Women Leader in Panama by IFLR1000 Women Leaders 2021 edition, a supplement based on research for the IFLR1000, the guide to the world's leading financial and corporate law firms and lawyers.
The publication features 750 leading and most prominent female lawyers working in areas of law such as banking and finance, corporate, contractual, regulatory, and projects. This is an elite group of lawyers from 235 jurisdictions globally with outstanding reputations within their markets who either have expertise and experience of working on complex deals or who have risen to hold leadership roles with their firms or their practices.
The Americas Women Leaders 2021 ranking can be read at: Americas Women Leaders 2021.