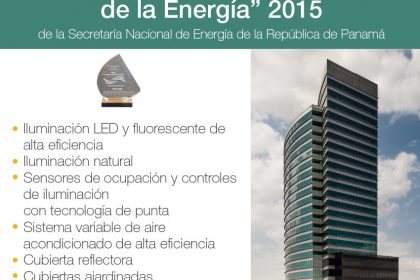 MMG Tower, headquarters of Morgan & Morgan, was recognized today with the award "rational and efficient use of energy 2015″ given for the first time this year by the National Energy Secretariat. The building, one of the main initiatives of MMG 's Corporate Social Responsibility was designed as an energy efficient structure, in order to reduce environmental and economic impacts associated with excessive energy consumption; It was honored in the category "Construction" for its many elements and environmental characteristics among which we can mention:
LED and high efficiency fluorescent lighting.
Natural Lighting
Occupancy sensors and the latest lighting control technology.
High efficiency Air Conditioning system.
Reflective Surfaces
Exterior foliage
At the award ceremony the Energy Secretary, Victor Urrutia, highlighted the commitment of all the winners to sustainability and the saving of electricity, and congratulated those companies or institutions that with the objective of being more efficient and competitive, efficiently rationalize the use of electricity as one of the most important economic resources. The award categories were: Educational, Governmental, Business and Services, Hospitality, Industrial and Construction.  To award the prizes the following criteria were considered:
· Importance that the saving of electricity has and will have for commercial and industrial activity
· Diversification of the economy
Generation of jobs
· Better use of investment, encouraging the substitution of efficient equipment, savings and development of the country.
The main objective of the National Energy Secretariat (NES) by granting this award is to encourage companies and institutions to optimize their energy use processes, production methods or the services they offer, by applying better habits in the rational use of electricity, aimed at reducing consumption and energy demand.
In addition to this award, MMG Tower received this summer the LEED Gold certification from the US Green Building Council, which validates the performance of the tower's construction confirming its environmental and economic benefits, and its occupant oriented nature while positioning it within a select group of buildings worldwide.   Other MMG Tower recognitions include: Grand Master Real State award Acobir 2014, Best Green Project Category Acobir 2014, Green Building award Cemex 2014, third place for Best Sustainable Design awarded in the XXIII International Buildings awards CEMEX Mexico and Best Architectural project award at SPIA 2014.