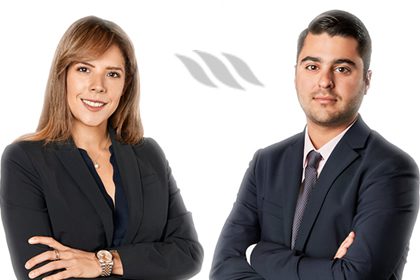 Panama, January 16, 2020. Morgan & Morgan is pleased to announce the recent hiring of Ms. Maria Eugenia Crespo and Mr. Miguel A. Arias, as associates of the Corporate Law team of the firm.
Before joining Morgan & Morgan, Ms. Crespo was engaged in her own legal initiative, 4UR-RIGHTS PANAMA, which focused on providing affordable legal support to victims of fraud and other criminal conduct, while also providing commercial and administrative advice to clients in different matters. Before that, she worked in London as international associate for the former Director of Legal Affairs to Interpol handling matters related to international arbitration, data protection, tax and customs regulation. In addition, Ms. Crespo has experience in criminal, civil and maritime proceedings. She obtained an LL.B. (Summa Cum Laude) from the School of Law of Universidad Santa Maria La Antigua in Panama, an LL.M. in Banking and International Finance Law from the University College London, United Kingdom and a Master in Corporate Governance (Pro Bono distinction) from Stanford University, California, USA.  Ms. Crespo is admitted to practice law in Panama. Ms. Crespo currently serves as external legal counsel for the Minister of Private Investment of the Republic of Panama.
Moreover, Mr. Arias joins the firm as an international associate.  He worked as an International Law Clerk in the Latin American Corporate Law and International Arbitration Departments of the major US law firm Holland & Knight LLP (Miami, Florida).  During this time, Mr. Arias advised clients on corporate matters, such as mergers and acquisitions, some involving cross-border components, as well as on litigation, and international arbitration matters. He obtained a B.A. in Business Administration – International Business and Legal Studies (with Honors) from Loyola University, New Orleans, U.S.A; and a Juris Doctor with an emphasis on business innovation, law, and technology at the University of Miami, Florida, U.S.A.  Mr. Arias is admitted to practice law in the State of Florida, U.S.A.
These recruitments come to strengthen the usual personalized and skilled services provided by Morgan & Morgan and reaffirms our position as Panama´s leading corporate law firm.