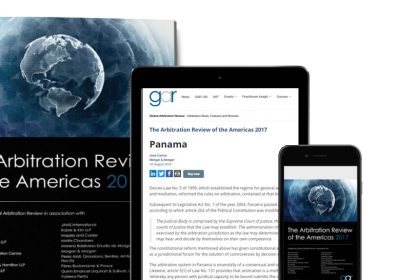 Jose Carrizo, partner of Morgan & Morgan, contributed with the Panama chapter of The Arbitration Review of the Americas 2017, a publication that recognizes regional leading firms in terms of service excellence, reputation and experience in the complex and fast-changing field of the arbitration practice.  
This edition has been prepared with leading arbitrators across the Americas including Argentina, Bermuda, Bolivia, BVI, Canada, Cayman Islands, Costa Rica, Ecuador, Mexico, the United States and Panama.  The special report summarizes relevant issues that help general counsel, arbitrators and private practitioners to avoid the pitfalls and seize the opportunities of international arbitration.  
Jose Carrizo, an experienced attorney with ample experience in both domestic and international arbitration processes, provided a comprehensive analysis of the arbitration system in Panama, its legislation and every aspect that confirms the country as an international and regional center for the resolution of arbitral disputes.
The guide is available to view here: http://globalarbitrationreview.com/insight/the-arbitration-review-of-the-americas-2017/1067588/panama