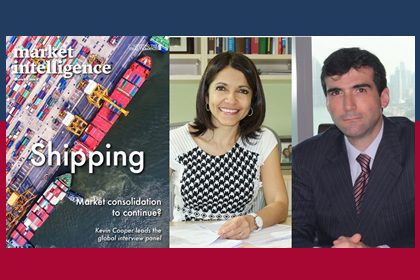 Jazmina Rovi and Francisco Linares, partners of Morgan & Morgan, contributed to the Panama chapter of the first edition of Getting the Deal Through: Market Intelligence-Shipping, a publication that invites leading professionals in their jurisdictions to conduct a thorough analysis of the evolution and the regulatory scenario of the maritime industry globally.
Mrs. Rovi has over 20 years of experience representing ship owners, charterers and leading financial institutions on all types of registration schemes under Panama flag and ship finance structures including ship mortgages and pledge of shares of Panama ship owning companies.  She is listed as a leading lawyer in the Shipping chapters of Chambers & Partners and Latin Lawyer 250.
Mr. Linares' career includes over 20 years of experience in all aspects of maritime dispute resolution and claims at the Maritime Courts of Panama, dealing with collisions, cargo claims, oil spills and pollution, charter party disputes, personal injury, maritime liens, marine insurance claims, ship mortgage executions, among others. Currently, he is the President of the Maritime Law Association of Panama (2017-2018 period).
To read the Panama article, click on the following link: https://gettingthedealthrough.com/intelligence/155/article/5703/shipping-panama