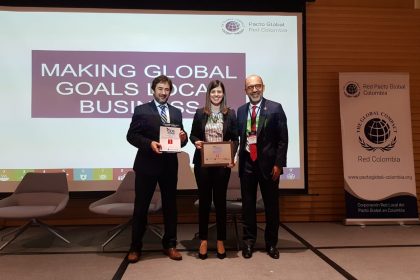 Panama, November 14, 2018. We are proud to announce that Morgan & Morgan, through the work carried out by its Community Legal Assistance Program, received the international recognition "Regional Best Practices Award for Sustainable Development in Latin America and the Caribbean" for the work the organization has been doing on the Sustainable Development Goal (SDG) # 5: Gender Equality.
The award ceremony was held on November 14th in the city of Bogotá, during the "Making Global Goals Local Business" event, organized by the Global Compact Network-Colombia.
What are the SDGs?
On September 25, 2015, world leaders adopted a set of global goals to eradicate poverty, protect the planet and ensure prosperity for all as part of a new sustainable development agenda. Each objective has specific goals that must be achieved in the next 15 years. To achieve these goals, everyone has to do their part: governments, the private sector, civil society and all people.
About the Community Legal Assistance Program
Morgan & Morgan confirmed its commitment to sustainability as a signatory of the United Nations Global Compact in 2001. Then in 2007, Morgan & Morgan became the only organization in Panama to legally assist the scourge of domestic violence. The Community Legal Assistance Program run by Fundamorgan is a unique project that offers people of limited economic resources, legal counselling and representation with no charge of professional fees, in Family Law and Domestic Violence proceedings.
In addition, the foundation focuses on issues of:
Prevention of violence through workshops on human rights, equity and gender equality for all sectors of the country.
Generate strategic and public-private partnerships to achieve an integral impact.
Promotion of laws and policies that protect the rights of women, children and young people, advocating from areas of relevance.
Support to users of the foundation with scholarships for courses that allow them to strengthen their self-esteem and empower themselves, managing to start small businesses to generate income that break the economic dependence.
Since the program began, more than 2,500 legal proceedings have been managed and more than 8,000 persons have received training on the subject, beneficiating specially women and children in the country.
Congratulations to the entire team of the Community Legal Assistance Program, whose daily work and effort actively contribute to a fairer and more equitable Panama.