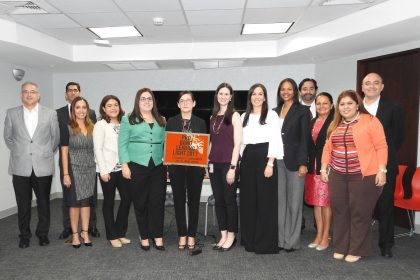 Panama, March 27, 2018. For the fifth consecutive year, Morgan & Morgan has received the "Leading Lights" recognition in Latin America for the Pro Bono program that the firm executes with the invaluable support of its team of lawyers.
This distinction was granted by the British publication Latin Lawyer, who together with the Cyrus R. Vance Center for International Justice conducted an annual survey with regards to institutionalization of the practice, high standards in this area and active participation of the lawyers. Only 3 Panamanian firms managed to achieve this recognition, sharing honors with others of very high caliber across the region.
"Since we institutionalized the Pro Bono program in 2011, we have allocated more than 6,500 hours of free legal service to projects and programs for the welfare of Panamanian society. An average of 55 lawyers from Morgan & Morgan actively participate, who have donated not only their knowledge but also their free time making available their experience in drafting bills, providing advice through Legal Education Workshops and offering legal services to different NGOs", said Camila De Vengoechea, coordinator of the program within the firm.
With this achievement, Morgan & Morgan reconfirms its commitment to promote access to justice through programs that allow us to build a society with greater equity and social justice.
More on the Pro Bono program
In 2011, Morgan & Morgan became the first Panamanian company to sign the Pro Bono Declaration for the Americas, committing to work a plural number of pro bono hours per year. The declaration is an initiative promoted by The Cyrus R. Vance Center for International Justice, based in New York, United States.
Among the bills of social nature that the firm has supported are the following: the Law on Volunteering in the Republic of Panama, the Law that creates the Food Bank of Panama and the Law that creates the Central Blood Bank (Hemocentro Nacional). Morgan & Morgan also participated in the creation of the Panama Chamber of Recycling.