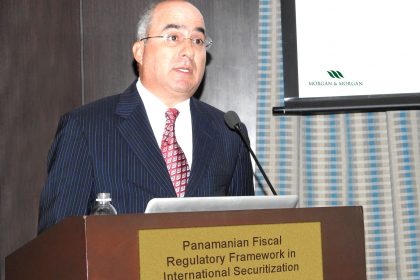 Panama, August 25, 2018. With the topic "Panamanian Fiscal Regulatory Framework in International Securitization", Mr. Francisco Arias G., partner in charge of the Securities and Capital Markets practice group of Morgan & Morgan, participated as a speaker in the conference Latest Trends in Asset Securitization: Applications to the Panamanian Market. The event was organized by Flex Funds, a firm specializing in vehicles for worldwide investment.
The seminar was held at the Hilton Hotel in Panama City, and was attended by representatives of financial institutions, investment advisors, asset managers, family businesses, among other local and international professionals.
Other topics were discussed in the activity, such as Perspectives and triggering factors in the mergers and acquisitions sector in Central America, the securitization of assets and their applications and the experiences in the securitization of assets in securities firms in Panama.
About Morgan & Morgan
In the sector of capital markets in Panama, Morgan & Morgan focuses on public and private offerings, some with cross border components.  The Securities and Capital Markets team of the firm has been involved in numerous transactions involving several billions of dollars. The firm also have assisted many clients in obtaining various licenses from the Superintendence of Securities Markets, including securities brokerage and investment fund administration.