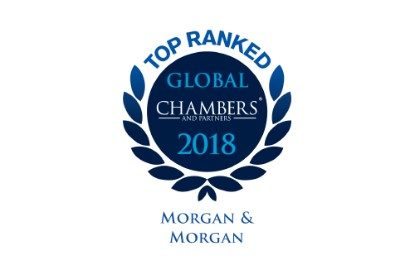 Morgan & Morgan´s Panama office, and fifteen attorneys of the firm were recognized in the Chambers Global 2018, guide of the best lawyers and law firms across 190 jurisdictions in the world.
The firm has been ranked in the first Bands within the areas of Corporate/Commercial, Banking & Finance, Dispute Resolution, Intellectual Property, Offshore, Shipping and Shipping Litigation.
Likewise, the guide noted in the first Bands partners Francisco Arias, Inocencio Galindo, Ramon Varela, Simon Tejeira, Luis Vallarino, Enrique Jimenez, Roberto Lewis, Luis Manzanares, Enrique De Alba, Jazmina Rovi, Juan David Morgan Jr. and Francisco Linares. Associates Roberto Vidal, Allen Candanedo and Maria Eugenia Brenes has been also ranked in the publication.
One of the clients interviewed stated that "the firm is client-focused, eager to assist and flexible when finding solutions".
About Morgan & Morgan
With over 80 lawyers and 20 practice areas, Morgan & Morgan is a full service Panamanian law firm, regularly assisting local and foreign corporations from different industries, as well as recognized financial institutions, government agencies and individual clients. Learn more at www.morimor.com.