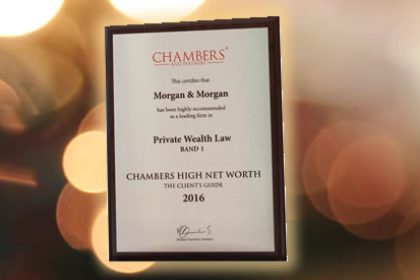 Chambers and Partners recognized Morgan & Morgan as a leading firm-Band 1 in the Private Wealth Law section of the first edition of The Chambers High Net Worth Guide 2016, a publication specifically aimed at the international private wealth market and a key reference point of the world´s leading firms in terms of service excellence and reputation.
"A full-service firm with offices in Latin America, Europe, Asia and the Caribbean, Morgan & Morgan has a substantial estate planning and private wealth practice. The team advises individual and institutional clients on the creation and administration of such vehicles as trusts and private interest foundations, as well as their use for wealth transfer. Clients seeking the firm's wealth structuring expertise may also benefit from other subsidiaries of the Morgan & Morgan Group, including fiduciary company MMG Trust (Panama) SA.", highlighted the editorial.
Furthermore, our partner Roberto Lewis received a special distinction as a "notable practitioner" with much experience working with international clients as well as specializing in issues of wealth preservation and distribution.
This recognition sets a remarkably high precedent, and marks an internationally-recognised achievement of excellence in promoting professional ethics as well as the soundness business practices both locally and internationally.