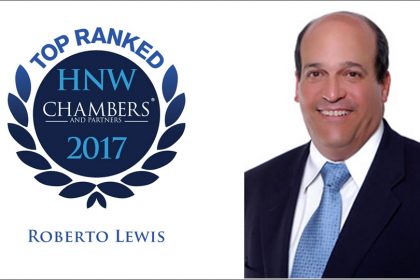 For the second consecutive year, Morgan & Morgan was recognized as a leading firm-Band #1 in the second edition of Chambers & Partners High Net Worth Guide – Private Wealth Law section,  a publication aimed at the international private wealth market and a key reference point of the world´s leading firms in terms of service excellence and reputation.  The editorial also highlighted the work of MMG Trust (Panama) S.A., a company of the Morgan & Morgan Group that provides trust services.
"I really appreciate the fantastic support they offer in setting up structures for family planning. They're very efficient, they're knowledgeable and give the support that we have needed, and I really appreciate the sense of co-operation that they give to us", a client says to Chambers.
Furthermore, partner Roberto Lewis received a special distinction as a "notable practitioner" with his experience focusing on wealth preservation and distribution matters including trust creation and administration, corporate vehicles and foundations.
This recognition sets a remarkably high precedent, and marks an internationally-recognised achievement of excellence in promoting professional ethics as well as the soundness business practices both locally and internationally.
The complete guide is available here.