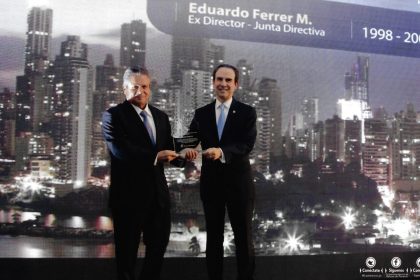 Dr. Eduardo Ferrer, Senior Partner of Morgan & Morgan, received from the Board of Directors of the Superintendency of Banks of Panama (SBP for its initials in Spanish) a plaque of recognition in virtue of his legacy, commitment and permanent contribution to the development and strengthening of the banking regulation, in favor of the stability, confidence and competitiveness of the International Banking Center of Panama.
Dr. Ferrer has over 40 years of experience as a banking lawyer and is considered a leading lawyer in banking and financial services in Panama., During his career, Mr. Ferrer has been Counselor to the Embassy of the Republic of Panama, Washington, D.C. during Canal Treaties Ratification period (1977-1978); Director of the Bank Superintendency of Panama (1998-2006), and President of the Board of Directors (2000-2001; 2003-2004). Currently, he serves on the Board of many private companies and is an honorary member of the Inter-American Bar Association and the International Bar Association.
The event took place within the framework of the 20 years of banking regulations celebrated by the Superintendency of Banks of Panama.  The activity was attended by outstanding professionals of the banking sector of the country.