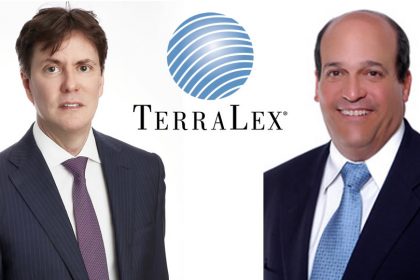 Panama, April 24, 2018.  As the proud TerraLex member firm for Panama, we are excited to announce that The Lawyer named TerraLex "Global Network of the Year" at its annual European Awards program in London. Recognized as the benchmark of excellence in the European legal sector, The Lawyer European Awards honors leaders in the market.
TerraLex was selected from a long list of network nominees in recognition of several notable initiatives, as well as its member's commitment to innovation and collaboration. The judges noted 2017 as a year of significant development for TerraLex and commented that they are impressed that a network established for so many years has shown such innovation and progress.
Examples of this progress cited by the judges include: An African Affiliate Program which implemented coverage for challenging jurisdictions by allowing existing TerraLex Members to affiliate firms in Africa with whom they regularly work but who would not qualify for regular TerraLex membership. Also formally launched: an industry/sector program in which industry teams work to identify the key issues clients face and then develop thought leadership and service solutions to respond to them.
The judges were particularly struck by Terralex's examples of truly collaborative working, demonstrating many occasions when the network could beat a large global firm and showing true benefits of membership to its members. This impressive acknowledgement is a tribute to the quality and dedication of TerraLex firms and all the TerraLex lawyers who volunteer their time to contribute to the network's success.
"We congratulate Terralex for this achievement and feel very honored to be the exclusive representative in Panama for this global network since 1990", said Enrique Jimenez and Roberto Lewis, partners of Morgan & Morgan and representatives to Terralex on behalf of the firm.
About TerraLex
TerraLex is one of the world's leading international legal networks. With more than 150 leading law firms and more than 19,000 attorneys in over 100 countries, TerraLex members provide the legal resources and expertise needed to deliver well-managed and consistent service. Learn more at www.terralex.org.
About Morgan & Morgan
Morgan & Morgan is a full service Panamanian law firm, regularly assisting local and foreign corporations from different industries, as well as recognized financial institutions, government agencies and individual clients.  Learn more at www.morimor.com