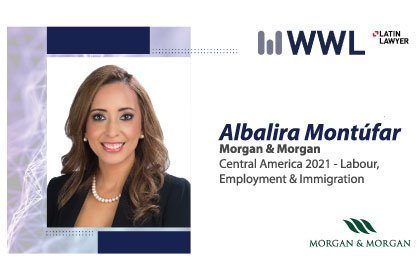 We are proud to announce that our partner Albalira Montufar was selected as Leading Immigration Lawyer in Panama byWho´s Who Legal (WWL) Central America 2021 edition, a comprehensive guide to the region's legal market, including the most highly regarded firms and individuals across Belize, Costa Rica, Dominican Republic, El Salvador, Guatemala, Honduras, Nicaragua, and Panama.
Ms. Montufar features in the Labor, Employment, and Immigration chapter of the guide, highlighting her more than 15 years of experience advising local and multinational corporations on immigration law.
"The excellent Albalira Montufar is a tenacious, resourceful and articulate lawyer with strong judgement and problem-solving skills, in addition to her detailed knowledge of immigration law and regulation.", WWL says.
More information can be found online here: Who´s Who Legal Central America 2021 – Albalira Montufar.