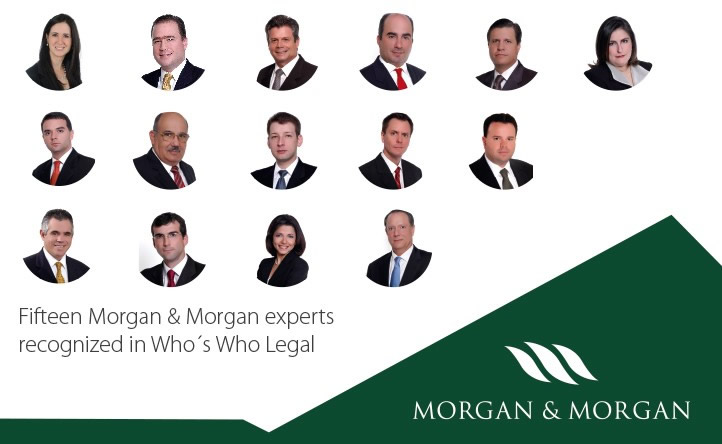 Fifteen Morgan & Morgan attorneys from several practice groups of the firm have been recognized for their exceptional work, in the second edition of the Who´s Who Legal Central America 2017.  The guide is a comprehensive listing the leading practitioners and law firms across 13 areas of business law in the region.
With over 80 attorneys and 20 practice areas, Morgan & Morgan is s a full service Panamanian law firm, regularly assisting local and foreign corporations from different industries, as well as recognized financial and government institutions, in important investments in Panama and the region.
"These distinctions are very important for us because they show that our clients and peers recognize our broad expertise in many areas of law, and the commitment of our team when advising clients in their legal needs while doing business in Panama", said Romulo Roux, Partner and Head of the Legal Services Unit of the firm.
Morgan & Morgan experts recognized:
Competition
Carlos Ernesto Gonzalez Ramirez, Partner
Maria Eugenia Brenes, Associate
Corporate
Ana Carolina Castillo, Associate
Carlos Ernesto Gonzalez Ramirez, Partner
Eduardo Ferrer, Partner
Francisco Arias, Partner
Inocencio Galindo, Partner
Dispute Resolution
Jose Carrizo, Partner
Simon Tejeira Q., Partner
Finance
Francisco Arias, Partner
Inocencio Galindo, Partner
Ramon Varela, Partner
Intellectual Property
Enrique Jimenez, Partner
Natural Resources
Inocencio Galindo, Partner
Private Client
Luis Manzanares, Partner
Transport
Enrique De Alba, Partner
Francisco Linares, Partner
Jazmina Rovi, Partner
Juan David Morgan Jr., Partner
Published in

Ana Castillo, Antitrust and Consumer Protection, Banking Law_publi, Carlos Ernesto Gonzalez, Eduardo Ferrer, Energy, Enrique De Alba, Enrique Jimenez, Estate Planning, Francisco Arias, Francisco Linares, Inocencio Galindo, Intellectual Property, Jazmina Rovi, Jose Carrizo, Juan David Morgan, Litigation and Dispute Resolution, Luis Manzanares, Maria Brenes, News, Ramon Varela, Ship Finance and Registration, Simon Tejeira
Morgan & Morgan represented Cooperativa de Productores de Leche Dos Pinos R.L., the largest dairy company in Costa Rica, in its acquisition of the milk and juice business in the Republic of Panama of Refrescos Nacionales, S.A. and Cervecería Nacional, S.A., subsidiaries of the brewer and bottler SABMiller. The transaction included the milk and juice plant in the province of Chiriquí and trademarks Nevada, La Chiricana and Tutti Frutti. The transaction was signed on January 18, 2013 and is subject to verification by Panama's competition authority (Acodeco).
The firm's team was led by partner Francisco Arias G. with the support of associate Gilbert Mallol, as well as partner Ricardo Lachman (labor), associate Allen Candanedo (intellectual property), associate Ana Cristina Castrellon (environment), associate Ana Carolina Castillo and associate Carlos Arturo Hoyos; and partner Carlos Ernesto González Ramírez is steering the process with Acodeco.
Morgan & Morgan representó a la Cooperativa de Productores de Leche Dos Pinos RL, la mayor empresa de lácteos en Costa Rica, en la adquisición de la empresa Refrescos Nacionales, SA y Cervecería Nacional, SA, ambas filiales de la cervecera y embotelladora SABMiller y dedicadas al negocio de leche y jugo en la República de Panamá. La transacción incluyó la planta de leche y jugos en la provincia de Chiriquí y las marcas Nevada, La Chiricana y Tutti Frutti. La transacción fue firmada el 18 de enero de 2013 y está sujeta a verificación por parte de la Autoridad de Protección al Consumidor y Defensa de la Competencia (ACODECO).
El equipo de la firma fue liderado por el socio Francisco Arias G., con el apoyo del asociado Gilbert Mallol, así como también con el apoyo del socio Ricardo Lachman (Derecho Laboral), el asociado Allen Candanedo (Propiedad Intelectual), la asociada Ana Cristina Castrellón (Derecho Ambiental), la asociada Ana Carolina Castillo, y el asociado Carlos Arturo Hoyos. El socio Carlos Ernesto González Ramírez está dirigiendo el proceso con ACODECO.