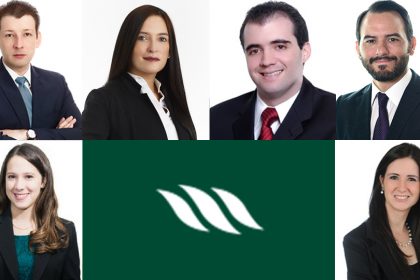 Morgan & Morgan advised Banco General, S.A. and Banistmo, S.A. in the structuring of an issuance of corporate bonds for an amount of up to US$320,000,000 carried out by Alternegy, S.A. The bonds were issued by Alternegy, and Banco General and Banistmo acted as joint arrangers and underwriters of the bonds. The bonds were registered with the Superintendency of Capital Markets of Panama and listed on the Panama Stock Exchange.
The bonds have a maturity of 10 years, interest will be paid quarterly at a floating rate (minimum 5.5%) and payments of principal will be made every six months with a balloon payment at the maturity date. Alternegy is a subsidiary of Celsia, a Colombian group of companies engaged in power generation, and it operates two hydroelectric power plants in Panama. Repayment of the bonds are secured by collateral trusts constituted under Panama and Costa Rica law. The funds received from the issuance of the bonds will constitute a new source of financing for Alternegy and will be used to repay a bridge loan granted to one of its affiliates, and which had been obtained for the purposes of financing the acquisition and operation of two hydroelectric power plants owned by Alternegy in Panama, namely Lorena and Prudencia; a hydroelectric power plant owned by Bontex in Panama, namely Gualaca; and a wind power plant owned by Planta Eólica Guanacaste, S.A. (PEG) in Costa Rica, namely Planta Eólica de Guanacaste.
Morgan & Morgan also advised Banistmo Investment Corporation, S.A., in its capacity as  i) trustee of the Panamanian collateral trust. The assets of said trust include, among others, receivables generated by the power plants operated by Alternegy and Bontex in Panama, a mortgage over the real property owned by Alternegy and Bontex in Panama, a pledge over the shares of Alternegy and Bontex held by Celsia, rights to receive payment under certain guarantee bonds; and ii) beneficiary of the Costa Rican collateral trust, the trustee of which is Banco Improsa and the assets of which include, among others, the flows generated by the Costa Rican power plant operated by PEG, real property of PEG and a movable guarantee over the shares of PEG held by Celsia.
In the transaction, Morgan & Morgan's attorneys worked with the executives of Banco General and Banistmo's department of investment banking in Panama and with the members of Banca de Inversión Bancolombia, S.A., Bancolombia's investment banking company in Colombia.
Partners Ramon Varela and Ricardo Arias, senior associates Kharla Aizpurua Olmos and Roberto Vidal, and associates Ana Carolina Castillo and Cristina De Roux, participated in this transaction.