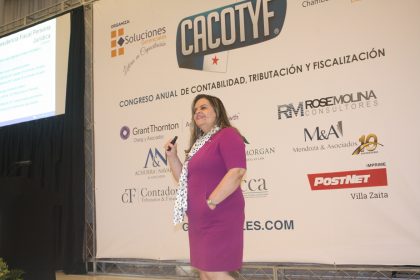 Amanda Barraza de Wong, associate of Morgan & Morgan, participated as speaker in the Annual Congress of Accounting and Taxation (CACOTYF-Panama 2017), held on October 3 and 4 in Panama City.
Morgan & Morgan was also a sponsor of this event which brought together professionals from diverse areas who engage into a great number of presentations. Among these, the presentation of Mrs. Barraza de Wong on the "Tax Residence", its requirements, uses and considerations, which both natural and juridical persons should take into consideration to apply as tax residents according to what says both the Fiscal Code as the Treaties to Avoid Double Taxation.
Mrs. Barraza de Wong is an associate attorney at the firm's Tax Department. She has 25 years of experience in tax departments of important international auditing firms, as well as in the General Department of Revenue and the Ministry of Finance, as a tax lawyer. In developing its legal practice, she has advised multiple companies on the tax contingencies of the various forms of hiring foreign personnel in Panama, and has a broad vision of the practices used by corporations to address the filings and forms required to be in compliance with tax regulations.