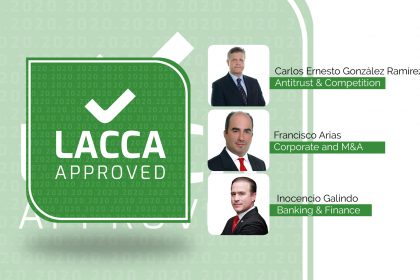 Panama, November 25, 2019. Partners Carlos Ernesto González Ramírez (Antitrust & Competition), Inocencio Galindo (Banking & Finance), and Francisco Arias (Corporate and M&A) have been included at LACCA Approved 2020, a selection of Latin American leading lawyers in specific areas of law. 
Approved lawyers have been personally recommended by members of LACCA, who are all general counsel from the top multinationals and private companies across the region. 
More information on http://laccanet.com/approved/.