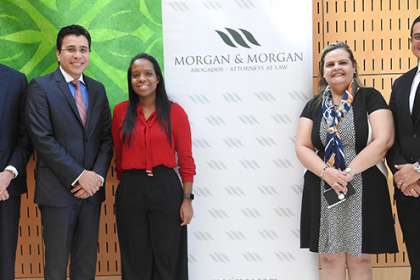 The Tax Team of Morgan & Morgan invited a group of clients to a breakfast-discussion table where the last updates and news on tax issues were presented. In front of a full house, partner Enrique Jimenez, and lawyers Adolfo Campos, Amanda Barraza and Carlos Sinisterra (CPA) talked with clients about the changes and amendments that have been made to the laws and entities on this subject.
Thus, Morgan & Morgan reaffirms its commitment as a leading firm in tax and fiscal matters, always ahead in benefit of their clients.
About Morgan & Morgan
Morgan & Morgan advises companies and individuals in matters pertaining to the Panamanian taxation system, including special taxes regimes. The firm has an experienced team of attorneys with broad knowledge in tax law addressing all sorts of industries, such as, financial services, technology, shipping, energy, real estate, intellectual property, retail and wholesale business, who can readily identify obstacles and solutions but mostly the opportunities clients can expect to achieve upon making business in Panama.