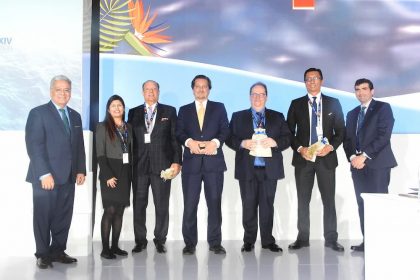 More than 500 local and international companies and individuals from the maritime industry gathered in the Republic of Panama for the fourteenth edition of Panama Maritime Conference & Exhibition, the largest maritime event in Panama, which took place from March 17th to March 19th, 2019, at the Megapolis Convention Center.
Several topics were discussed during the conferences, being "Legal Implications of Technological Disruptions in Shipping, Ports and Logistics and Recent Development in Maritime Financing" one of the most attended, in which Dr. Francisco Linares served as the moderator. During said conference, Dr. Enrique De Alba talked about "Legal Implications of the New Incentives for Maritime Financing in Panama".
Morgan & Morgan excelled as one of the main sponsors to this event in which our attorney Andres V. Mejia acted as a member of the Organizing Committee.
Panama Maritime Conference & Exhibition 2019 was a joint effort of the Panamanian Maritime Law Association and the Maritime Chamber of Panama, together with the Panama Canal Authority and the Panama Maritime Authority.