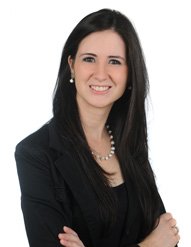 ANA CAROLINA CASTILLO
507.265.7777
MMG Tower | 23rd Floor   
Ave. Paseo del Mar | Costa del Este | Panama, Rep. Panama   
P.O. Box 0832-00232 – WTC

Chambers & Partners
"Associate Ana Carolina Castillo Solís receives commendations from clients, who say: "She is an excellent professional; she is proactive and makes us feel confident that we can surmount the challenges we face."
Ana Carolina Castillo Solís es asociada senior del Departamento de Derecho Corporativo de Morgan & Morgan. La Licda. Castillo Solis se especializa en asesoría en derecho corporativo y comercial, financiamientos, fusiones y adquisiciones, entre otros.
Frecuentemente asesora a clientes en proyectos de generación de energía (hidroeléctrica, eólica, termoeléctrica y solar). En su experiencia, ha representado a inversionistas, desarrolladores, y prestamistas, en transacciones de todo tipo como financiamiento de proyectos, procesos regulatorios, obtención de licencias y permisos, derecho ambiental, contratos y derecho administrativo, incluyendo recursos y acciones legales ante la Sala Tercera de la Corte Suprema de Justicia.
Su práctica también se ha enfocado en la industria de la construcción, representando al dueño y contratista, tanto en contratación privada, como en contratación pública, especialmente en relación a contratos EPC, incluyendo los modelos FIDIC.
Fungió como secretaria del Comité de Energía de la Asociación Panameña de Ejecutivos de Empresas (APEDE). También es miembro de la Asociación de Directoras de Panamá (ADP).
Chambers & Partners y Who's Who Legal la destacan por su trabajo en energía y recursos naturales, y derecho corporativo.
La Licda. Castillo Solís está también muy involucrada en las actividades pro bono que realiza la firma. Su labor incluye, entre otras, la participación en Jornadas de Atención Legal Gratuitas en comunidades de riesgo social.
Obtuvo su Licenciatura en Derecho y Ciencias Políticas (Summa Cum Laude) de la Facultad de Derecho y Ciencias Políticas de la Universidad Santa María La Antigua de Panamá (2011), también participó en el Programa de Intercambio Internacional de Derecho de la Universidad Católica Argentina en Buenos Aires, Argentina (2009). Además, obtuvo su Maestría en Negocios Internacionales y Derecho Económico (con distinción) de Georgetown University Law Center en Washington, DC, EE.UU. (2012). Adicional, cursó un Diplomado en Impuestos en la Universidad Especializada del Contador Público Autorizado en Panamá.
Está admitida para ejercer el derecho en la República de Panamá.