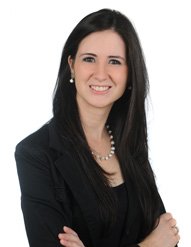 ANA CAROLINA CASTILLO
507.265.7777
MMG Tower | 23rd Floor   
Ave. Paseo del Mar | Costa del Este | Panama, Rep. Panama   
P.O. Box 0832-00232 – WTC

Chambers & Partners
"Associate Ana Carolina Castillo Solís receives commendations from clients, who say: "She is an excellent professional; she is proactive and makes us feel confident that we can surmount the challenges we face."
Ana Carolina Castillo Solis is a Senior Associate at the Corporate Law Department of Morgan & Morgan.  Ms. Castillo Solis specializes in advisory work in corporate and commercial, finance, mergers and acquisitions, among others.
Ms. Castillo Solis is particularly active advising clients involved in power generation, including hydro, wind, thermo, and solar projects. In her experience, she has represented the owner and developer, as well as the financing parties, in a wide variety of transactional matters including Project Finance, regulatory, licensing, permits, environmental, contractual matters, and administrative law, including legal recourses and actions before the Third Chamber of the Supreme Court of Justice.
Her practice has also been focused on the construction industry, representing the owner and the contractor on private contracting, as well as public procurement, particularly in EPC contracts, including FIDIC models.
She has served as Secretary of the Energy Committee of the Panamanian Association of Business Executives (APEDE). In addition, Ms. Castillo is a member of the Association of Directors of Panama (ADP).
Chambers & Partners and Who's Who Legal recognized Mrs. Castillo as leading lawyer in energy & natural resources and corporate law.
She is also involved in pro bono activities at the firm regularly assisting to Legal Open Houses organized by the firm in very low-income communities to provide free legal orientation on subjects such as family law, domestic violence, labor law, immigration, litigation, among others.
Ms. Castillo Solis obtained a Bachelor of Law and Political Science (Summa Cum Laude) from the Law School of Universidad Santa Maria La Antigua in Panama (2011); she also participated in the International Law Exchange Program at Universidad Catolica Argentina in Buenos Aires, Argentina (2009); and obtained an LL.M. in International Business and Economic Law (with distinction) from Georgetown University Law Center in Washington, D.C., U.S.A. (2012). Furthermore, she coursed a Taxation program in the Universidad Especializada del Contador Publico Autorizado in Panama.
Ms. Castillo Solis is admitted to practice law in the Republic of Panama.