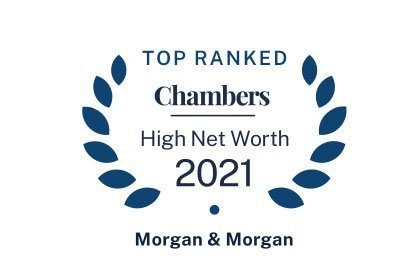 Morgan & Morgan is pleased to announce that, for the sixth consecutive year, the firm´s Private Wealth Law practice group earned a top ranking (Band 1) in the 2021 Chambers Hight Net Worth Guide, a prestigious publication aimed at the international private wealth market and a key reference point of the world´s leading firms in terms of service excellence and reputation.
"Chambers quotes an important institutional client saying: " I don´t think there is a law firm as excellent as them in Panama. If we have something in Panama, we always go to Morgan & Morgan. They are knowledgeable, they provide an excellent service to clients and they are good to work together with."
Six of Morgan & Morgan's attorneys were also distinguished with top rankings as Notable Practitioners in the above-mentioned guide:
Roberto Lewis Morgan, partner, (Band 1) is head of the practice and has a depth of expertise in wealth preservation and succession matters, including private foundations and corporate vehicles. A client commented to Chambers that he "is someone with a fantastic reputation. He is very good creating structures for clients and he is very, very clever" and is "the go-to lawyer for foundation matters."
Raul Castro, partner, (Band 2) is an advisor to the Panamanian government regarding international tax matters, CRS and FATCA implementation. One market insider says to Chambers "He is a smart attorney with a very good insight into international matters. He is good at handling complex matters and is always coming up with creative solutions for clients."
Luis Manzanares, partner, (Band 2) has substantial experience in wealth preservation matters, including tax and succession planning advice on investment funds, trusts, and private interest foundations. "Very knowledgeable on foreign trust issues. He is a very client-oriented and great to work with." says one client to Chambers.
Luis Miguel Hincapie, partner, (Band 3) is regularly assisting the firm´s South American clientele, and oversees the firm´s business strategy in Asia  with a special interest in China. "He has a lot of expertise on international matters, which makes him a great asset to have on your side. He can handle very sophisticated matters," said one client to Chambers.
Fernando Boyd, partner, (Up and Coming) is recognized for his knowledge of Panamanian Corporate Law and has ample experience in the creation and administration of complex multi-client and multi-jurisdictional structures. "He is an awesome lawyer. He is very responsive, very on top of details and definitely somebody to watch," said one client to Chambers.
Laura Barrios, senior associate, (Associates to Watch) is considered one of Panama´s most knowledgeable tax treaty and CRS and FATCA reporting expert in the region. "She is very smart and responsive. She is very knowledgeable on Panamanian legislation and guidance for private clients. A fantastic attorney." says one client to Chambers.
Morgan & Morgan has a seasoned team of lawyers with vast experience in traditional wealth protection and management structures such as discretionary and non-discretionary trusts, private interest foundations and corporations. More than five years ago, the firm started a new practice led by a group of young lawyers with vast knowledge in modern and tax compliant structures tailored for high net worth individuals and families.
More information on this recognition is available here.