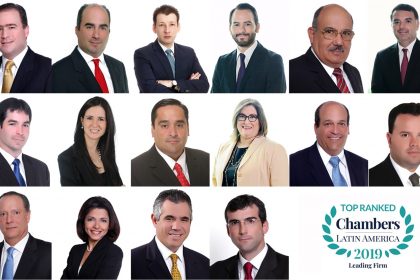 Panama, September 25, 2018. Morgan & Morgan and sixteen attorneys of the firm were recognized in the Chambers Latin America 2019, guide of the best lawyers and law firms across 20 countries of Central America, the Caribbean, South America and Mexico.
The firm has been ranked in the first Bands within the areas of Banking & Finance, Capital Markets, Corporate/M&A, Dispute Resolution, Energy & Natural Resources, Intellectual Property, Offshore, Projects, Real Estate, Shipping and Shipping Litigation.
Likewise, the publication noted as leaders in their areas attorneys Inocencio Galindo, Francisco Arias, Ramon Varela, Roberto Vidal, Simon Tejeira, Jose Carrizo, Luis Vallarino, Ana Carolina Castillo, Allen Candanedo, Maria Eugenia Brenes, Roberto Lewis, Luis Manzanares, Enrique De Alba, Jazmina Rovi, Juan David Morgan Jr. and Francisco Linares.
One of the clients interviewed stated that "Judging by the results that the firm achieves, I can say that their advice is effective and arrives in a timely manner. I would highlight their availability and technical competence". 
About Morgan & Morgan
With over 80 lawyers and 20 practice areas, Morgan & Morgan is a full service Panamanian law firm, regularly assisting local and foreign corporations from different industries, as well as recognized financial institutions, government agencies and individual clients. Of particular note is our continuous advice for clients involved in all stages of the development of important projects related to energy, water supply, construction, oil, mining, public infrastructure, retail, ports, transportation, among others. Learn more at www.morimor.com.